Vietnam is home to some of the most delicious noodle dishes we've ever tasted. Along the way, we've managed to familiarize ourselves with the country's most drool-worthy women.
Lucky for you, we've done all the dirty work and rounded up the 10 hottest women in Vietnam who deserve ALL of your attention. Drop everything and be ready to sweat buckets.
10. Jennifer Nguyễn
The Canadian-born Vietnamese model is far from uninhibited. She is confident, provocative and is 100% hot. This busty personality knows she's for the right stuff for the job and being the Scorpio that she is, she is more than happy to keep every man on his knees.
9. Phan Như Thảo
We stumbled upon her in Asia's Next Top Model and we knew right off the bat that we are in the presence of a beauty queen. The former Miss Vietnam World contestant is an absolute stunner, with her fierce look and perfectly contoured body.
8. Lê Hoàng Bảo Trân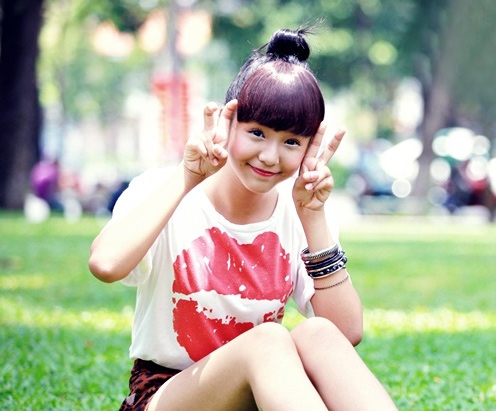 Being dubbed a professional model at only 12 years of age when she started, Le Hoang Bao Tran has certainly come a long way and is blossoming as a very beautiful woman. Our personal favorite is whenever she'd wear a mini skirt in her photo shoots. There's just something about it that makes us go nuts!
7. Việt Trinh
Another Vietnamese beauty, Viet Trinh possess is endowed with such mesmerizing eyes and captivating smile. The actress/ model knows she's got class and style, that she's more than happy to share her stunning beauty to the rest of the world.
6. Diễm My
In the extremely sexy and hot department, we have Diem My. She is easily one of the most luscious and lustful Vietnamese woman we've ever seen. The doll-like lass looks good in practically anything, with us looking forward to more bikini shoots.
5. Thủy Top
When the subject of cleavage pops up, we can easily nominate Thuy Top as among the top. Don't be fooled by her innocent eyes because once you venture on downward, you'll see that her body talks and means business. Excuse us while we salivate over her.
4. Pha Lê
Another one who's blessed in the busty department, Pha Le is more than happy to show off the goods every time she's in front of the camera. We're nothing but grateful of course, all we could wish for is more of her wearing bikinis and lingerie.
3. Mai Phương Thúy
Best known for being Miss Vietnam, the 26-year old beauty is indeed a catch among everyone. She's got a wonderful smile and an equally wonderful body that leaves us in shambles. There's no arguing why she deserves to be our #3.
2. Hoàng Oanh
Another Miss Vietnam contestant, Hoang Oanh is not hard to fall head over heels in love with. She constantly turns heads and commands attention. With that face and body of hers, she instantly got us wrapped under her spell, so much so that we just had to place her on the silver spot.
1. Elly Trần Hà
Taking the top spot, we have the very busty blogger and personality, Elly Tran Ha. Sure she's got a lot to say and no doubt she's one smart girl (while still being all sexy with her glasses on) but we're pretty sure that very huge and distinct cleavage of hers quickly got everyone's attention. All we can think about is that big rack of hers, which we'd be more than happy to blog about.
There you have it! If you haven't been to Vietnam because noodles don't particularly resonate to you, then maybe these women would be more than enough reason to go.